Curators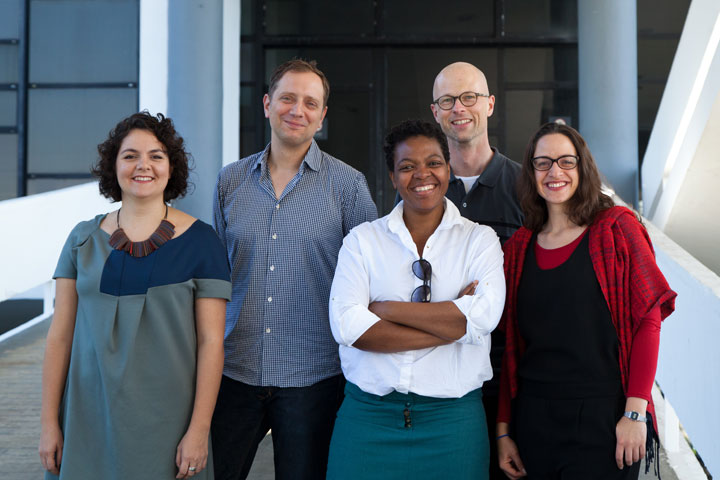 Jochen Volz
(1971, Braunschweig, Germany)
Jochen Volz is a curator and art critic. He served as Head of Programmes at the Serpentine Galleries in London; Artistic Director at Instituto Inhotim; and curator at Portikus in Frankfurt. He was co-curator of the international exhibition of the 53rd Bienal de Veneza (2009) and the 1st Aichi Triennial in Nagoya (2010) and guest curator of the 27th Bienal de São Paulo (2006). Lives in São Paulo, Brazil.
Gabi Ngcobo 
(1974, Durban, South Africa)
Gabi Ngcobo is an artist, independent curator and member of faculty at the Wits University School of Arts, Johannesburg. In 2010 she co-founded the Center for Historical Reenactments (2010- 2014), an independent project that operated from Johannesburg, where she curated PASSS-AGES: references & footnotes and Xenoglossia, the Exhibition, amongst others. She co-founded and co-directs NGO-Nothing Gets Organized, a project space based in Johannesburg. Lives in Johannesburg, South Africa.
Júlia Rebouças 
(1984, Aracaju, Brazil)
Júlia Rebouças is a curator, researcher and art critic. She was curator at Instituto Inhotim from 2007 to 2015 and a member of the Curatorial Team of the 18th and 19th Festival Internacional Sesc_Videobrasil (2012-2015). In 2013 she was associate curator of the 9th Mercosul-Porto Alegre. She holds an MA and is currently undertaking a PhD from Federal University of Minas Gerais (UFMG) Visual Arts Post-Graduation Programme. She lives between São Paulo and Belo Horizonte, Brazil.
Lars Bang Larsen
(1972, Silkeborg, Denmark)
Lars Bang Larsen is a writer, curator, and art historian. He has (co-)curated exhibitions such as Reflections from Damaged Life (Raven Row, London 2013) and Georgiana Houghton: Spirit Drawings (Courtauld Gallery, London 2016). His books include The Model. A Model for a Qualitative Society 1968 (2010), Networks (2014) and Arte y norma (2016). Lives in Copenhagen, Denmark.
Sofía Olascoaga
(1980, Mexico City, Mexico)
Sofía Olascoaga works in the intersections of art and education. She served as the academic curator at MUAC (Museo Universitario de Arte Contemporáneo – UNAM) in Mexico City, where she coordinated the academic program Campus Expandido [Expanded campus]. Olascoaga was prior Head of Education and Public Programs at Museo de Arte Carrillo Gil in Mexico City and collaborates with international laboratories for public programs across the globe. Lives in Mexico City and São Paulo.